In order to celebrate RRI's 20th Anniversary, the Ignite Eurasia project has been extended another year to position Southern Asia for success.
Click here for free downloadable promotional resources including a high resolution version of this video for public presentation.
BE THE ONE TO IGNITE A MENTORING MOVEMENT IN SOUTHERN ASIA
One-third of the world's kids live in India, Nepal, Bangladesh, and Sri Lanka!
Thousands of kids and teens are living in darkness and under the influence of false religious beliefs in Southern Asia. Royal Rangers attracts these kids and teens and sparks hope in their hearts and minds through the Gospel of Jesus Christ. It takes one spark to ignite a flame, so it is with the spread of the Gospel!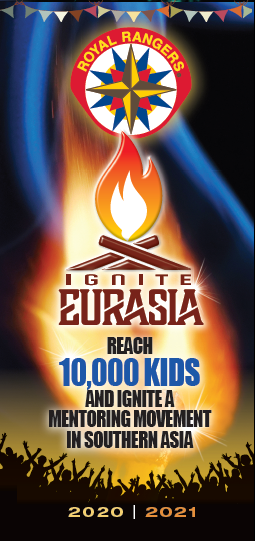 Your partnership with ignite Eurasia will spark A lasting movement!
HERE'S WHAT WE WILL ACCOMPLISH TOGETHER:
We will present the Gospel to 10,000 unreached kids and teens.
We will prepare language-specific resources in Nepali to train mentors to disciple Christ-followers.
We will train national leaders to start new Royal Rangers outposts in India, Nepal, Bangladesh, and Sri Lanka.
By modeling evangelism and discipleship, by resourcing outposts with language-specific resources, and by training leaders who will perpetuate the ministry, we will ignite a mentoring movement in Southern Asia that will impact generations until Christ returns.
Will you be the spark that ignites a mentoring movement in Southern Asia?